WHY CHOOSE MOTOGREECE
A LEGITIMATE COMPANY YOU CAN TRUST
MotoGreece is a registered company, operating legally with a license granted by the governing body for tourism in Greece, the National Greek Tourism Organization.
Registration & License number: MHTE 0206E82000521401
We founded MotoGreece in 2015 with one goal and vision: to highlight Greece as a favorable motorcycling destination and show to riders from all over the world what a fantastic time they can have while touring on a motorcycle in Greece. The challenge is a big one: to stand out among numerous companies that offer such services in Europe & become established as a reputable and trusted company.
We can say the obvious: we turned our passion into business. That's something we are sure you read often. It's almost a cliche. But really it could not be otherwise, could it?
Here are our ingredients to make this happen: our pure love for motorcycling, our noteworthy traveling experience domestically and abroad, the inside knowledge of our country's secrets and a strong professional background. Continuous improvement, customer focus and all the principles of Quality Management Systems have been incorporated into our organization.
OUR CLIENTS TALK !
Nothing short of 5 stars here folks. We would give them more if we could. Bike was great but we expected that of a nearly new BMW. Way beyond the call of duty. Hospitality, patience, accommodating, professional.
Jody Varey, from Canada, September 2017.
Read more from our client's testimonials and reviews here! Currently we are rated with 5 s on Facebook and Google.
TRAVEL EXPERIENCE MATTERS !
Whether it is a short-term tour to popular motorcycling destinations all over Europe, such as the Alps, the Pyrenees, the North Cape, or a long-term motorcycle expedition over a distant continent forming what is usually referred to as "a trip of a lifetime", we have done it.
The experiences earned during all these years that we have been traveling on our motorcycles have been integrated into the planning of our tours. We know which details are important. We know what can make the day go bad and what can turn it to a "day to be remembered". We understand the particularities of motorcycle touring and what the rider wants at the beginning, during the course, and at the end of each riding day.
In "Our travelogues" section of the MotoGreece blog you will find stories from some of our personal travels. Below is a random selection of them :
PROFESSIONAL BACKGROUND

Before establishing MotoGreece, our career paths led us to operate in very demanding, high-calibre business environments. It is from within that combined background that we draw all the necessary qualifications and skills to ensure that this venture is run at the most proficient way.
Deriving best practices from our previous professional experiences we follow one major rule: do it right the first time. So, at MotoGreece we have set up all of our procedures following the principles that apply to modern Quality Management Systems. Our work is documented, reviewed and constantly evaluated as per the operational practices and the requirements of the international standard ISO 9000. In fact, we aim to become official certified by an accredited Certification Body as soon as we complete the minimum operating time required.
Customer focus is the corner stone of how we do things. We measure our success not in terms of financial indexes but in customer satisfaction. And you will be the proof of that!
Our Quality Standards
We think as customers
What would we want if we were customers to a similar company? What would make us satisfied with a tour operator, their service, their package? We have placed the answers in our product.
Brand new motorcycles
All our motorcycles are no more than 2 years old, in perfect operating condition. They all are 100% privately owned by MotoGreece.
Maintenance & Service
All our motorcycles are being serviced and inspected only by authorized service centers.
Evaluation
We test & evaluate all our suppliers and we accept only those who meet our criteria. Hotels & restaurants, guides for the archeological sites, etc. We carefully select everything.
Improvement
We will not settle. There is always place for improvement and we always seek ways to do things better.
Certification
As soon as we complete the minimum operating time required by the international standard ISO 9001 we will aim for a certification for our Quality Management System that we have implemented.
LOCAL KNOWLEDGE

We are Greeks, born-and-bred. And we have been riding our motorcycles through our own "neighborhood" for the last 20 years. We know the places. We know the sights. We know the routes. No other foreign tour operator knows our playground better.
MEET THE TEAM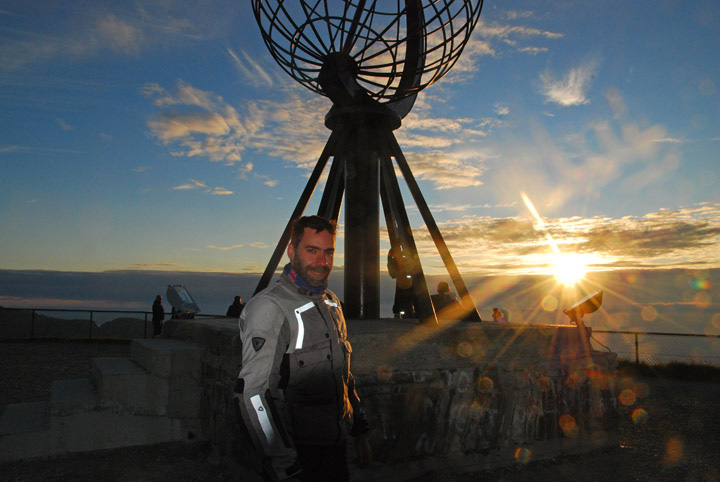 John Kapelakis
Founder & Manager of MotoGreece
John, aged 40, is responsible for planning the tours and he leads most of them. He has extensive motorbike travelling experience around Europe and in South America. His 5-month adventure crossing in south America is already considered an all time epic among the Greek biker communities. When he is not touring on a bike, he also enjoys fine-tuning his riding skills by taking his 2nd bike, a CBR, in trackdays. John speaks proficient English, basic German and Spanish.
He holds a university degree in Production Engineering and a post-graduate Masters degree in Business Administration. Before establishing MotoGreece he worked for 12 years as business consultant, having the rank of Senior Consultant and Project Manager.