Rent a Honda NC750X in ATHENS
Brand new 2020 model.
With a true (tested) average fuel consumption of just 3.7 liters/100 km (63.5 miles per US gallon) this motorcycle will save you money during your tour. And it makes things as easy as it can get by utilizing a Dual Clutch Transmission. Wait! Do you prefer the conventional shifting (as most of us I guess) ?
No problem, just switch it to Manual mode (yes you can do that!) and then you are in total control of the gear shifting either : a) by using +/- paddles on the left hand grip, or b) by using a regular gear lever with the left foot ! That's right, we have equipped our models with this optional accessory from Honda to make things as easy as possible.
So the only thing that is missing, is the clutch lever! There is one caveat here : you may like this system so much – especially for touring purposes – that you may become a convert !
New 2020 model

Complete luggage system

, with 2 side panniers & rear top case
Security lock
Unlimited kilometers for rentals of 6+ days
3rd party liability insurance
Theft and Damage insurance with excess
All taxes
1*- 2 days: 95/ day
3 days: 90/ day
4-6 days: 85/ day
7-13 days: 80/ day
14+ days: 75/ day
long term (1 month plus): contact us
* 1-day rentals are offered only during July and August.
For rentals up to 5 days you are allowed for 300 free kilometres per day. Extra kilometres are charged for 0.30 euros per kilometre.
Rentals of 6 and more days get free allowance of unlimited kilometres.
Minimun age: 27 years old

Rider's license: minimum 2 years of motorcycle category A (

full unrestricted

)
International Driver's Permit, showing class A, for certain countries. Please read here to check the requirement.

Damage Deposit: 1500 euros, on VISA or MASTERCAD credit card
Damage waiver and Theft coverage included, with Insurance excess (deductible) : 1600 euros

For rentals of 6 or more days: you have the option to reduce Excess and Damage deposit to 700 euros with an extra fee of 20 euros per rental day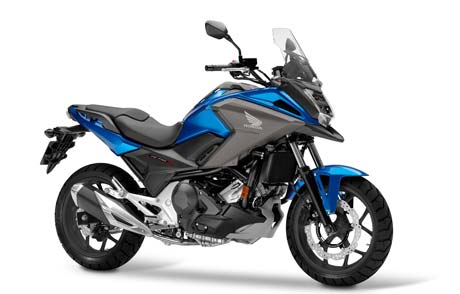 Engine: 745 cc, inline twin
Horsepower: 55 HP / 6250 rpm
Torque: 68 Nm / 4750 rpm
Tank: 14 litters
Average consumption: 28 kilometers / liter (!)
Weight (ready to ride): 230 kg (507 pounds)
Seat height: 830 mm (32.7 inches)
ABS
Traction control
Complete luggage system, with 2 side panniers & rear top case
Luggage compartment of 22 liters in front of the seat, bringing the total luggage capacity to almost 140 liters !
DCT with added gear foot lever allowing for manually shifting gears if wish to do so