GUIDED MOTORCYCLE TOURS IN GREECE

Find below our currently available guided motorcycle tours in Greece.
See also the section of our website with the Self Guided Motorcycle Tours. On demand, and provided there are at least 3 riders signing up, we can turn any self guided tour to a fully guided one.
Wondering about the quality of our tours? Scroll/ swipe further down just to read some excerpts from reviews left from our happy customers! We also provide some general information about how we think about our tour design process.
The CENTRAL-NORTHWEST GREECE Tour

The tour that will take you off the typical tourist trail
2 UNESCO World Heritage Sites
Meteora, Delphi, Vikos gorge, Zagoria, Tzoumerka
1,900 kilometers
Advanced level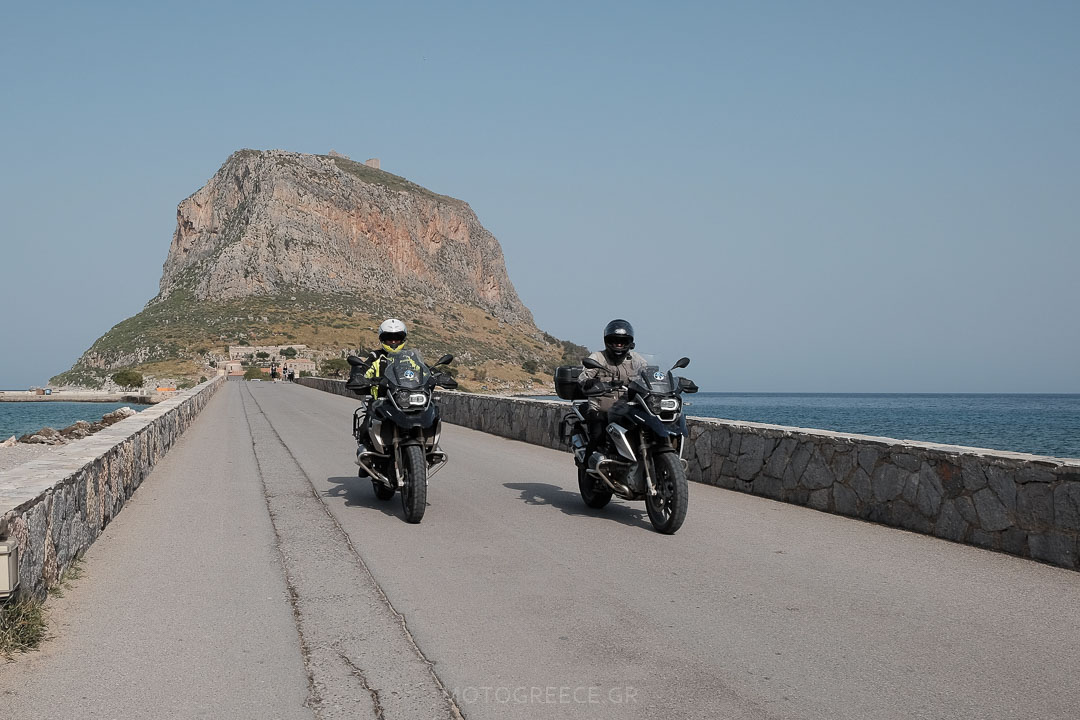 SOUTH GREECE, the Complete TOUR OF PELOPONNESE

5 UNESCO World heritage sites
Ancient Olympia, Epidaurus, Mystras, Temple of Apollo in Bassae, ancient Mycenae, Monemvasia, Nafplion, area of Mani
1,800 kilometers
Intermediate level
Customers' Reviews About Our Tours
The following are just a sample. You may find all of these reviews and many more on TripAdvisor, or on Google or on our Facebook page. #TrueReviews, #RealCustomers, #Integrity !
Alun G, from the Isle of Mann, wrote :
"If you've not experienced mainland Greece on a bike GET IT DONE!
If like us it's your first experience of Greece and you want it to be the best faultless experience you could possibly imagine, DON'T HESITATE you don't need to consider; Just do it! Seriously MotoGreece will see to it and for us in all respects the two Johns got it SPOT ON!! Quality from start to end!
Their attention to detail is fantastic and they make it so incredibly easy and personable in a none invasive professional manner. They are keen to show you the Greece that rightfully they are proud of. Bikes✔️ Accommodation✔️ Roads✔️ SCENERY✔️ Informative✔️ Yes personable✔️
We'd not been on a "guided" tour previously and we were a little concerned but no need to be, Motogreece.gr are truly fantastic! Johns riding was also totally appropriate for our requirements doing a great job guiding us and really just made it easy to travel with him. I could bombard you with photographs but I don't know where to start, so many incredible places and photographs that John gave us time to enjoy and savour. Guys we will be back but we have other places to ride on our own bikes before our return. Different tours available and you can do none-guided, whatever package you want from them but our Zagoria Tour and guided was the one for us on our first visit. THANK YOU MotoGreece!"
Michael U. from Australia, wrote :
"We recently did the Central-Northwest Greece tour with MotoGreece and it was absolutely fantastic!! John was a great guide, the riding was fantastic and challenging and the locations, accommodation and sightseeing were outstanding! Great value for money and we are already planning our next trip with Moto Greece! Thanks John and the team!"
GENERAL INFORMATION ABOUT OUR
TOURS
You may find these useful :
STAY UP TO DATE !
Subscribe to receive news about our tours