Tour Summary
The "Central and Northwest Greece Motorcycle Tour" aims to show you some of the country's less visited places which are, from a rider's point of view, simply amazing. You have to ask yourself. What are the elements that make a ride in the countryside unforgettable? Stunning landscapes? Check! Roads with consecutive bends & corners that seem to never end? Check! Little to none traffic? Check!
You will see natural wonders, such as the Vikos Gorge which is considered the 2nd deepest in the world. Or the limestone pinnacles of Meteora, a UNESCO World Heritage Site. You will find yourself under thick tree canopy, where the sun never touches the ground. You will ride over the highest paved mountain pass of Greece, where you will think that you have been teleported to the Alps. About one third of this tour runs through regions that are commonly considered as the most wild, rugged and unspoiled of Greece.
And then, you will spend a day relaxing in Lefkada, the island with it's world known beaches, such as the "Porto Katsiki" or the "Egremni beach".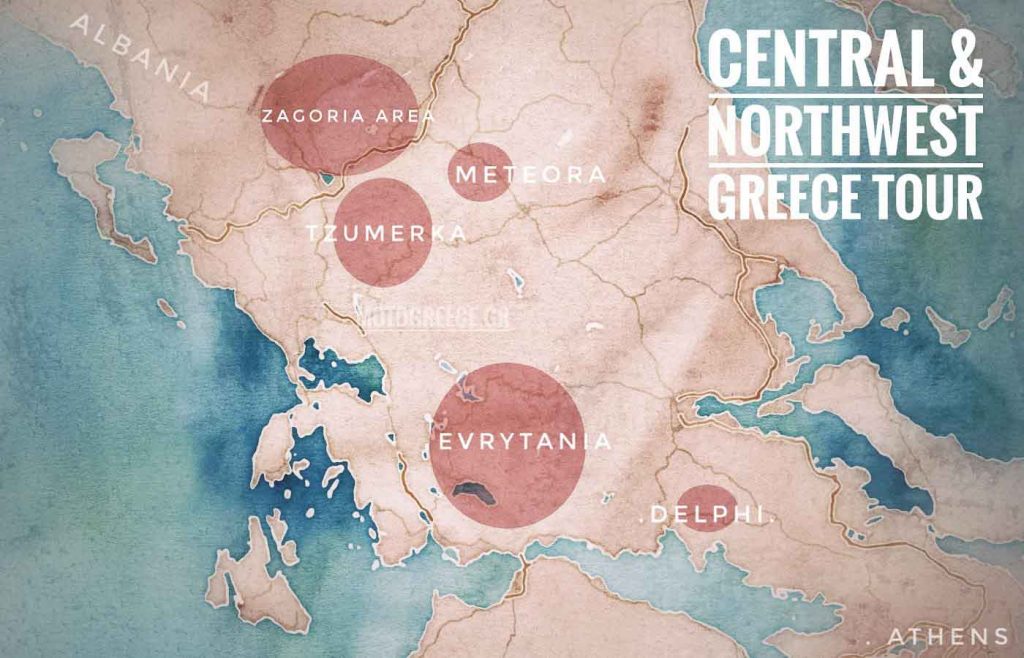 We have added some elements of popular & historic interest, such as the ancient site of Delphi and the monasteries at the location of Meteora. Last, but not least, you will have a chance to relax by rafting on Europe's clearest river!
This tour, due to a) the extended diversity of the areas visited, b) the long distances, c) the remoteness of some areas and d) the narrow roads, is considered by most riders as "Advanced".
12 days in total. 9 riding days, 1 rest/free day and 2 days accounted for your arrival to and departure from Greece.
Aprox. 1,900 kilometers (~ 1,190 miles). The average daily distance is 210 kilometers. The longest day is 390 klms, the shortest is ~100.
A couple of days with 6-7 hours on the saddle (depends on your experience level). Most days with average of 4-6 hours on the saddle.
Boutique & traditional guesthouses, a mountain resort, and a luxury hotel.
100% paved. A large amount of this tour runs on "challenging" roads: narrow, secondary mountain routes with never-ending corners. Continuous steep hairpins are often present.
Review of this tour on TripAdvisor
Rebecca S., from Australia, wrote on TripAdvisor:
"A trip of a lifetime!!
We recently did the Central-Northwest Greece tour with MotoGreece and it was amazing! John was a great guide, the riding was fantastic and challenging and the locations, accommodation and sightseeing were all outstanding.
Seeing this part of Greece that is not on the typical tourist trail with MotoGreece was a once in a lifetime experience! We can't say enough about how much we enjoyed the tour and we are already planning our next tour with MotoGreece. Thanks to John and the team and see you again soon!"
Date of experience: September 2019
The monasteries of Meteora and the imposing limestone towers, a UNESCO world heritage site.

The villages of Zagori (also Zagoria or Zagorohoria) in the northwest. Traditional stone built settlements full of character and beautiful architecture.

The gorge Vikos, a breathtaking vista. Listed as the 2nd deepest in the world (and in some references, as the absolute deepest, in relation to its width!)

The clearest river of Europe, Voidomatis. The colors of the waters will enchant you!

The villages of Tzoumerka built by stone in steep gorges and on edges of cliffs.

The archeological site of Delfi with the Oracle of Apollo, one more UNESCO World Heritage site.

The magnificent island of Lefkada, with the turquoise colored beaches.

The medieval coastal castle of Nafpaktos.
LET US TEASE YOU !
a TASTE of what you will see :
This tour will take us mostly to mountainous regions and secondary roads, where traffic is often absent. We have included the most scenic routes, with the most amazing vistas, those that are considered by the local riders' communities as truly the best of Greece in terms of scenery and landscape.
But this comes at a cost! A lot of stages of the tour run through continuous narrow winding roads, with little room to spare. You will ride as much as 100 kilometers of such roads in one single take! Successive ascending or descending tight switchbacks/ hairpins are often present.
There are occasional rough sections, with potholes or scattered stones dropped from cliffs on the surface, especially at the most remote mountainous roads that we pass. Also, on those remote roads, due to extreme weather conditions that might have preceded during the winter period, there might be damaged sections that are in a state of repair. This means we might encounter short stretches (i.e. 10-50 meters long each) with dirt or gravel.
| (all prices in euros) | Single Rider, single room | Single Rider, sharing twin room | Rider and Passenger *, double room |
| --- | --- | --- | --- |
| BMW R 1250 GS | 6,000 | 4,990 | 7,650 |
| HONDA NT 1100 | 5,800 | 4,790 | 7,450 |
| BMW F 750 GS | 5,640 | 4,630 | 7,295 |
| HONDA NC 750X | 5,380 | 4,370 | 7,030 |
| HONDA CB 500X | 5,220 | 4,210 | 6,875 |
(* Rider and Passenger price is for both people, not per person.)
Booking deposit : 800 euros per rider and 500 euros per passenger
Balance due : 45 days prior to tour start. Partial installments can be arranged before this deadline
Prices shown reflect a minimum participation of 6 riders. For a smaller group or for single private tour, the cost is higher. Please contact us for a quote.
a) 18 – 29 June. Bookings Closed.
10 – 21 June:

Bookings deadline: January 31, 2024
and on demand : any dates with a minimum of 4 riders signing up and a confirmed booking at least 3 months in advancee
What is Included in the price you pay
– 11 nights accommodation in 3 and 4 star hotels (including the day you arrive to Athens and last night again in Athens)
– 11 breakfasts
– 10 diners, including welcome and farewell diners in Athens (alcoholic drinks excluded)
– Airport transfers to and from Athens Internat. Airport, on arrival and departure
– Experienced lead guide on a motorcycle, English speaking.
– Driver and support vehicle for luggage (1 per person) and passengers (2 seats)
– Rental of Motorcycle, with side panniers and top case, and GPS.
– Road tolls
– 3rd party liability insurance
– motorcycle damage and theft coverage with insurance excess (varies per model)
– Tour booklet containing information, maps, routes, waypoints, contacts etc
– All taxes
– Fuel
– Lunches & snacks during the riding hours & all alcoholic drinks
– Personal daily expenses & tips
– Fees for local museum/site guides (to archeological sites, museums, outdoors activities)
– Entrance fees to archeological sites and museums
– Cost of optional side-activities (rafting etc.)
– Personal travel insurance
– Visas (if required)
– Anything else not described as "included".
STAY UP TO DATE!
Subscribe to our newsletter to know about changes in this tour, offers, or new tour announcements!