Southeast Peloponnese Tour
The essential road trip of the southeast!
6 riding days vacation
Southeast Peloponnese Motorcycle Tour
The essential experience of the southeast
Tour Summary
Our essential southeast Peloponnese motorcycle tour combines amazing riding routes with a lot of historical interest, all packed in a 6-day riding package.
It is a perfect choice, whether you are looking for your first introductory motorcycle tour in Greece, or if you have a limited time available but still want to maximize your experience from your 2-wheeled visit in our beautiful country.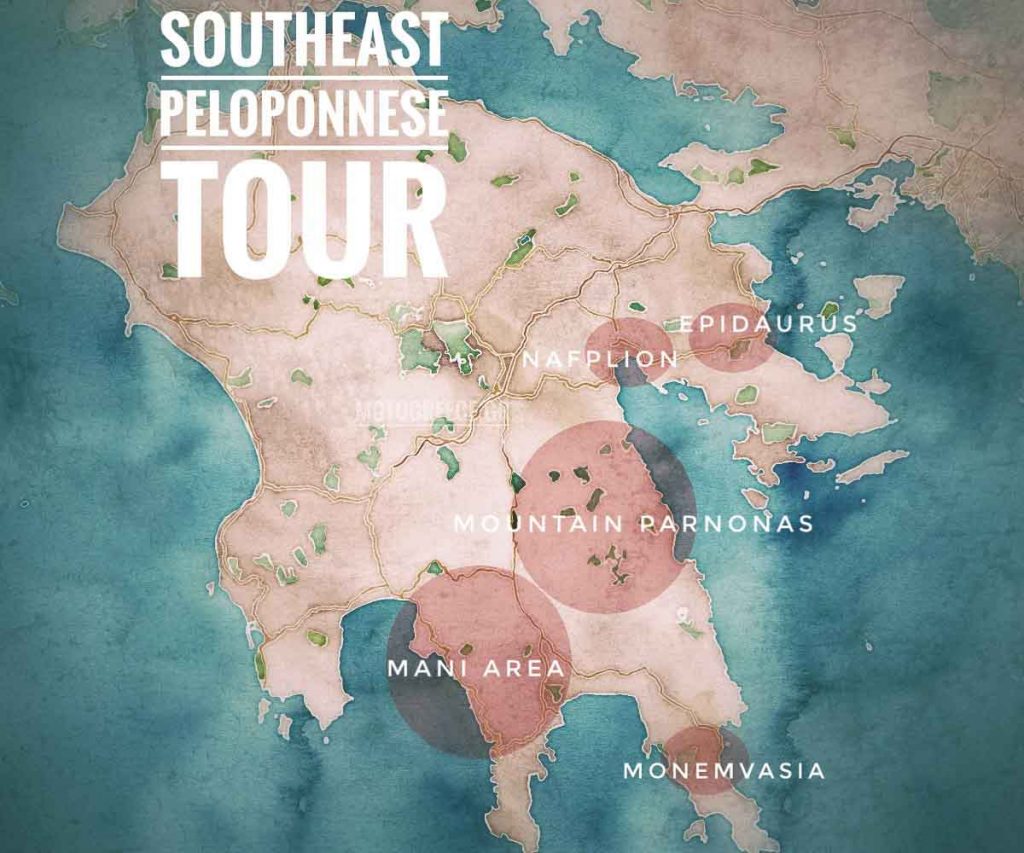 8 days in total: 6 riding days, 1 day for your arrival to Athens, 1 day for your departure.
aprox. 1100 kilometers (~690 miles). Shortest day: 90 kilometers. Longest day: 240 kilometers.
Daily average 5-6 hours on the saddle.
A traditional stone-built mountain resort, a luxurious boutique hotel by the seaside, and a luxury hotel.
1oo% paved. Aprox. 55% on touring roads, 25 % challenging roads.
Attractions - What will you see on this tour
Ancient Mycenae & ancient Tiryns, UNESCO world heritage sites, "outstanding examples of human creative genius" (quote from UNESCO's official website). The Cyclopean walls, Atreus Treasury and more!
Ancient site of Epidaurus, UNESCO world heritage site, including the temple of Asklepios, the Tholos and the Theater, "considered one of the purest masterpieces of Greek architecture" (quote from UNESCO's official website)
Site of Mystras, the "wonder of Morea", also a UNESCO world heritage site!
Byzantine Monemvasia, the "Gibraltar of the east".
Byzantine site of Vathia
The castle of Palamidi
Diros Caves, where an underground river is flowing. About 5,000 meters of it have been exposed and are accessible by small boats and through narrow passageways
Roads - What riding will you do
There is a minimal highway riding, mostly because it is useful to get out of and back in to Athens, during the first and last days. The entire tour runs on paved roads. For the biggest part of the main course, we will be riding on secondary roads, with very little traffic. A picture is worth a thousand words, so the following image carousel contains photos from the routes of the tour. Slide/swipe left/right to see all images.
| (all prices in euros) | Rider, sharing room | Pillion passenger |
| --- | --- | --- |
| BMW F700GS | 2,480 | 1,280 |
| BMW R1200GS | 2,800 | |
| Single room surcharge | 380 | |
Booking deposit : 450 euros.
Outstanding payment : no later than 45 days prior to tour start.
Minimum participation of 3 riders is required. For 2 riders or single private tour, the cost is slightly higher. Please contact us.
For a self-guided price quote, please send us an email.
All dates guaranteed departures
April 14 – April 21
May 26 – June 2
October 13 – October 20 :  last guided edition of this tour ! Starting from 2019, this will only be offered upon request
What is included in the price & what is not
– 7 nights accommodation (including the day you arrive to Athens & last night again in Athens)
– 7 breakfasts
– 7 diners, including 1 welcome & 1 farewell diner in Athens.
– Airport transfers to and from Athens on arrival and departure
– Experienced lead guide on a motorcycle, English speaking.
– Support vehicle with driver, for luggage (1 per person) and passengers (limited seats)
– Rental of  BMW motorcycle (models 2017 or 2018), fully equipped
– 3rd party liability insurance & motorcycle theft and damage coverage with insurance excess
– Tour booklet containing maps, information, routes, waypoints, coordinates, contacts etc.
– All taxes
– Mid-day lunches, snacks on the road & drinks
– Fuel & tolls
– Personal daily expenses
– Tips
– Fees for local museum/site guides (to archeological sites, museums, outdoors activities). Optional.
– Entrance fees to archeological sites and museums. Optional.
– Cost of any optional side-activities.
– Personal travel insurance.
– Visas (if required)
– Anything else not described as "included"
Or not what you were looking for?
This tour can be adjusted to fit your preferences. Add or remove days, see more destinations, or ask for different dates! Perhaps you feel that you don't need the services of a support car and wish to do the tour without one to lower the cost? For these parameters or anything else you might want to change, contact us!
Back to our Tours Overview, or read the Tour Terms & Conditions. Also you may want to check the Frequently Asked Questions.