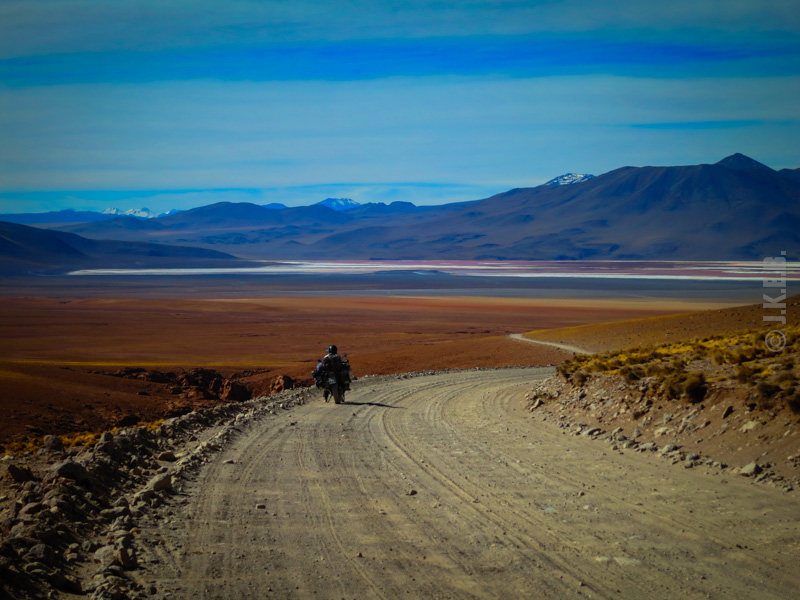 A 5-month motorcycle journey across South America. 28 thousand kilometers ridden and lots of adventure. From Buenos Aires to Colombia and then south, all the way to the "end of the world" in Tiera del Fuego. This trip was everything that we had been dreaming of, and more as we rode through the cultural diversity of 6 countries on challenging roads and pushed ourselves past our own self-limiting beliefs. Truly, an experience of a lifetime!
In a way, this journey set the conditions from which MotoGreece was founded. It was the experience that truly changed our lives and made up our minds to abandon the corporate career path and focus to what we love more. But let's start!
More than a year of preparations had preceded, battling between exhausting project management details at work and thoughts of faraway places. But finally, the time had come. We shipped our motorcycle from Greece to Buenos Aires and a month later we set off, for an epic adventure. We exited the metropolis of Argentina and headed northwest. The first few hundreds of kilometers were uneventful, with just plains and farmlands around us. After the intense heat and an indifferent landscape on Ruta 157, we turned west towards the mountains of the Sierra del Aconquija. The route finally woke us up. Mountain twisties all the way to the beautiful Tafi del Vale at 2,000 meters altitude. The spectacular valley Quebrada de las Conchas was next. Approximately 180 kms surrounded by sandstone, reddish schist formations and landforms, in one of the most impressive landscapes of the Argentine north.
Image slider: views of the Quebrada de las Conchas
[imgslider-wrapper]
[imgslider imgurl="1768″][imgslider imgurl="1769″][imgslider imgurl="1767″][/imgslider-wrapper]
We left behind us Salta a morning with ideal weather conditions. And finally, before us stood the majestic mountains of Andes. A solid massif that in that province reaches the altitude of 6,000 meters. And we went straight towards it, the longer mountain range of the planet. We wanted to enter Chile, but instead of doing so following the route 52 to paso Jama, we choose to cross the isolated and wild paso Sico on the ruta 51, a gravel route that few people travel. That route exceeds an altitude of 4,000 m. How would our bodies react to the lack of oxygen? How would that affect us? Would we endure with slight altitude sickness symptoms or not? Could we complete the 200+ km gravel track in one day in order to reach a settlement before the night would fall or would we have to set camp at such high altitudes? In that case, how cold would it be thereon; At night temperatures fall below zero on the high planes of the Andes, as the climate turns to sub-polar. We were about to find out, but not before reaching the mountainous village of San Antonio de los Cobres for a night stop-over.
Image slider, left to right: 1. the road to San Antonio introduced us to the deserted Altiplano. 2. View of the high plains. 3. Arrival to San Antonio.
[imgslider-wrapper]
[imgslider imgurl="1770″][imgslider imgurl="1771″][imgslider imgurl="1772″]
[/imgslider-wrapper]
From San Antonio de los Cobres until the next point of civilization, the village Socoire in Chile, there are about 255 kms of gravel, most of them at altitudes above 4,000 meters, with lots of sand and corrugations. In between there is nothing except the border outposts of the two countries. We left the small village at 7:30 in the morning. At that time the temperature reading on the display of the trip comp was -8 C!  We arrived at the first frontier outpost, the Argentine one, shortly before the paso Sico with a relief. A little later we were at the Chilean outpost, where I asked the guard if there is a shelter nearby. The answer was characteristic. «Absolutamente nada!» Absolutely nothing! From that point all the way to Socoire. We camped next to a salt lake and woke up next morning to see icy layers formed all over the tent, even inside, on top of our sleeping bags!
Image slider: the barren and desolate Ruta 51 [imgslider-wrapper]
[imgslider imgurl="1773″][imgslider imgurl="1774″][imgslider imgurl="1775″][imgslider imgurl="1776″][imgslider imgurl="1777″]
[/imgslider-wrapper]
From Socoire begins the descent to Atacama, the driest desert of the world! We stood at a panorama point where we gazed this vast dry area and we felt awe. In a few minutes we were passing the Tropic of Capricorn and riding through the eastern edge of the desert we arrived to the village of San Pedro de Atacama. We had to rest. Bolivia was next!
In Bolivia we could enter from another direction, straight from the north of Argentina without making the detour through Chile. But in such case, we would miss the most surreal landscape of the continent. The Bolivian altiplano in the southwest of the country, the protected area Reserva Nacional de Fauna Andina Eduardo Avaroa. An unreal, alien, epic, almost inconceivable landscape. Tough, challenging and unadulterated. Active volcanoes, geysers and hot springs. Rocks amazingly diverse in forms. Low bushes painted with vibrant gold, red, black and bright white. Lakes appear out of nowhere in the desert with fantastic colors literally, instead of being limited to the conventional blue shades they come in green, turquoise, yellow and red! Wild colors and striking topography.
But crossing the desolate altiplano, unassisted, on a full loaded dual sport motorcycle with a pillion, is a tough challenge. There are sections with only traces of 4×4s etched in the sand and fading out in the horizon. GPS, maps and compass are essential tools. The conditions are demanding as a result of the altitude. Thin atmosphere, lungs struggling, dehydration, blinding sun that burns and disorients, and at the same time strong and icy winds. 350 kilometers of such conditions, up to 5,030 meters altitude, through sand, rocks and corrugations. It was by far, the toughest and most challenging ride I have ever done. But at the same time, what we experienced is without any doubt the top motorcycling highlight of our lives, so far.
 Image slider: the extra-terrestrial, unreal, unbelievable Bolivian Altiplano. The red lake "Laguna Colorada" completely blew our minds.  [imgslider-wrapper]
[imgslider imgurl="1782″][imgslider imgurl="1780″][imgslider imgurl="1781″][imgslider imgurl="1778″][imgslider imgurl="1793″][imgslider imgurl="1794″]
[/imgslider-wrapper]
3 days later we reached Uyuni. Time for a rest day. Uyuni is mostly known to travelers for the largest salt flat in the world that lays a few kilometers outside the town, at an altitude of 3650 m. From end to end is about 130 km. 10,580 square meters of  absolute flat whitewashed surface. It is so white that with the reflection of the sun, the landscape becomes blinding. We rode to the center of this surreal place, the isla Incahuasi, where we camped for the night. Our next destination was Potosi. The road to Potosi is asphalt and a joy. Twisties, going uphill and then downhill, through plateaus and valleys with vegetation at 3,600 m. full of herds of thousands of lamas. It was also becoming obvious that we had left behind us the desert and we were entering into a different climate zone.
Image slider: the town of Uyuni and the surreal, blinding white Salar de Uyuni, [imgslider-wrapper]
[imgslider imgurl="1783″][imgslider imgurl="1784″][imgslider imgurl="1785″][imgslider imgurl="1786″][/imgslider-wrapper]
That city of Potosi is one more south American experience not to be missed. Built on 4,070 meters on the slopes of Cerro Rico («rich mountain") is a city full of life, bustling, vibrant. Street vendors everywhere, in every corner, every sidewalk. There are local small shops, there are bazaars and open-air markets. Canteens sell handmade chips. Alleys & cobble-stoned pathways. Old buildings of colonial architecture. Shacks and old mansions. All in a mix adjacent to one another. An amazing parade of people, a fancy circus of life, of colors, of smells. This city, a World Cultural Heritage by UNESCO, quite simply amazed us. Unique, genuinely south American.

Sucre greeted us next. Called the "white city" of Bolivia, Sucre is also proclaimed by UNESCO as a world cultural heritage site. From Potosi to there the landscape continues to change gradually, the region is warmer as it descends in altitude. The historic center of Sucre is beautiful. The white buildings of the colonial architecture dominate the city giving it a very elegant feel. But it differs from Potosi. It lacks the mad impulse, it is more tidy. After spending a few days there, allowing for Helen to recuperate from stomach pains, we continued our course east. The sub-tropical regions of Bolivia offer amazing vistas, heat, and rain! We wandered through poorly mapped areas as we explored the "Ruta del Che". Dirt and gravel roads led us to the small village La Higuera, hidden deep in the slopes of mountains behind the valley of Rio Grande. It is the place where Che Guevara was killed. We settled at the Casa del Telegrafista for a couple of nights, waiting for the rainy weather to pass.
Image slider: in search of La Higuera [imgslider-wrapper]
[imgslider imgurl="1787″][imgslider imgurl="1788″][imgslider imgurl="1789″][/imgslider-wrapper]
And then we were off to the capital of Bolivia. In between we ascended the "Siberia pass" freezing and soaking again as the rainy season had caught on us for good. La Paz is madness! A traffic chaos. We eagerly left, looking for our next highlight of our journey. It was time to ride the infamous "Road of Death" of Bolivia. From the altitude of 3,300 meters where La Paz is situated we ascended to pass Cumbre at 4,630 meters and saw the temperature drop to 2 degrees Celsius. 32 kilometers later we were holding our breath, anxiously thinking of what we might encounter as we stood before the start of the death road. Behold. El Camino de la Mouerte, the old Yungas road. Cut into the side of the Cordillera Oriental Mountain chain, often covered by mist, bears stunning views. Sheer rock wall rising to the heavens on one side, sheer cliff disappearing hundreds of meters below on the other. We completed the route without thrills.
Image slider: the infamous Road of Death in Bolivia [imgslider-wrapper]
[imgslider imgurl="1790″][imgslider imgurl="1791″][imgslider imgurl="1792″][/imgslider-wrapper]
We returned to La Paz fascinated and feeling truly in love with Bolivia. But at that point, almost 1 month since we started from Buenos Aires, it was time to leave it behind. Peru was expecting us and a new chapter of our journey was about to unfold.
(All images courtesy of John Kapelakis & Elena Bitsika)