! NOTICE !
Currently, we provide a scooter upon request ONLY to customers that book a big motorcycle rental, as a complimentary service for moving around Athens, before or after their motorcycle tour. Please do not send booking requests for scooters, unless you are also booking a motorcycle rental as well !
Rent a Scooter in Athens
MotoGreece predominantly focuses in the rental of touring motorcycles and in organizing motorcycle tours across the country. We do however keep just a couple of scooters in the fleet, as a lot of our customers before or after their tour would like to spend a few hours exploring Athens. So, they get a scooter which is ideal for this, instead of using a big adventure bike.
For this reason, our scooters are most often pre-booked. If you wish to rent one, it is strongly advised that you contact us first to check availability.
Also, you must be an experienced rider. Novice riders and people who seldom ride scooters in urban environments with dense and frenzy traffic conditions like those found in Athens, run serious risk of injuries and accidents. Don't take this lightly.
Minimun age: VESPA 300: 25 years old. Piaggio Medley: 24 years old

Rider's license: minimum 2 years of motorcycle category A or A2 (European licenses).
International Driver's Permit, showing class A, is required for some countries, please check the IDP requirement here.
You may not ride these scooters with a car's license

No flip-flops please!

Damage Deposit pre authorized on VISA or MASTERCARD credit :

250 euros for the Vespa 300

150 euros for the Piaggio Medley
Vespa GTS 300 HPE
2020 model. The most iconic scooter ever made.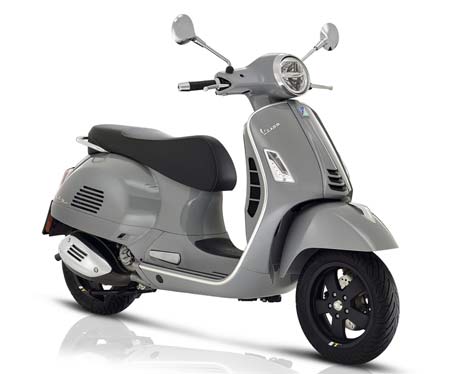 Brakes with ABS
Traction Control
Engine: 283 cc, single cylinder, liquid cooled
Horsepower: 23.8 HP / 8250 rpm
Tank: 8.5 litters
Average consumption: 31 kilometers / liter, 72.9 miles per US gallon
Seat height: 790 mm
Piaggio Medley 150 i-get
2020 model. Power and efficiency in an agile package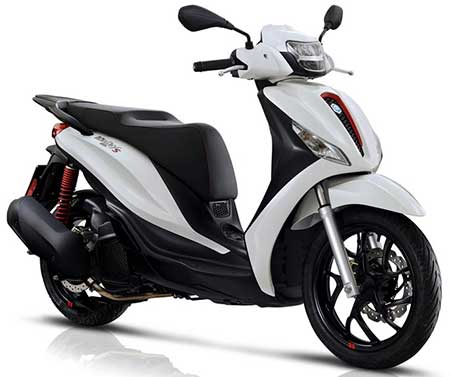 Brakes with ABS
Engine: 155 cc, single cylinder, liquid cooled
Horsepower: 16.4 HP / 8750 rpm
Tank: 7 litters
Average consumption: 41 kilometers / liter, 96 miles per US gallon
Seat height: 799 mm
| Brand | Model | half day * | 1-2 days | 3-6 days | 7-13 days |
| --- | --- | --- | --- | --- | --- |
| Vespa | GTS 300 HPE | n/a | 55 | 45 | 40 |
| Piaggio | Medley 150 i-get | 30 | 36 | 30 | 28 |
Rental price includes:
New 2020 model
Security lock
Daily kilometers : 100
3rd party liability insurance
2 helmets, ECE 22.05 European standards compliant
All taxes
* half day, scooter rentals: limited to 6 hours and up to 40 kilometers. These 40 kilometers are more than enough if you wish to simply explore the downtown Athens for a few hours, visit its most popular attractions and its hip neighborhoods. A complete round tour of these locations rarely exceeds a distance of 20 kilometers.