Tour Summary
A perfect getaway from Athens, this 3-days self guided motorcycle tour of Pelion will get you to one fantastic area, the place where according to Greek mythology was the domain of Centaurs.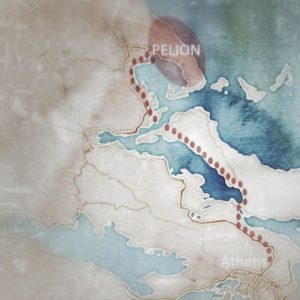 Aprox. 840 kilometers (~ 525 miles)
4-6 hours on the saddle, daily
An old traditional mansion.
"Intermediate" level for most riders, mostly due to the presence of many tight and steep hairpins. Please read here about how our tours are graded!
100% paved. A large amount of this tour runs on narrow, small secondary mountain routes. Continuous ascending/descending hairpins are often present.
The mountainous peninsula of Pelion is densely forested and one of the most scenic locations in the country. Villages are built in terraced slopes, the architecture is unique with old stone and wood mansions being renovated and many of them transformed to elegant boutique hotels.
Cobblestone streets and pathways, and squares, very old huge plane trees, traditional home made deserts, there's a lot to discover in Pelion's picturesque villages, as long as you take the time to stop riding, and allow yourselves some time to walk for a few minutes in 2 or 3 villages along the way.
The roads have no straight, only corners and switchbacks, with views that constantly alternate.
Have a small taste in the pictures that follow:
Day 1: Athens – Portaria (2 nights in Portaria) (300 kilometers / 188 miles)
Exit Athens and ride to Chalkida, the entry point to the island of Evia (also called Euboea). Ride north on a beautiful scenic route, on Greek countryside.
At the northern side of the island, take the ferry and 20 minutes later continue the ride to Pelion area.
Day 2: Portaria – Pelion loop – Portaria (110 kilometers / 69 miles)
Don't be fooled by the little kilometers count of this ride, it's going to be a full day! The entire ride is an overdose of corners among lush landscapes, taking you to numerous picturesque villages, most of them presenting a very typical and distinct architecture for the region.
You will most appreciate their beauty if you take the time to walk the cobblestone alleys and small streets of 1 or 2 of those villages. Milies and Vizitsa are probably the 2 most attractive. Makrynitsa is the most touristy (but still worth it!)
Depending on time of year, you may also choose to deviate slightly and visit one of the beaches of the eastern front of the peninsula.
Day 3: Portaria – Athens (options, from 400 to 350 kilometers / 250 to 220 miles)
You will be presented with 3 options. Depending on your mood that day you will ride back to Athens either by good touring roads, or a combination of scenic routes with lots of twisties.
| (all prices in euros) | Single Rider, single occupancy | Single Rider, sharing twin room | Rider + Passenger*, double room |
| --- | --- | --- | --- |
| BMW R 1250/1200 GS | 845 | 735 | 915 |
| HONDA Africa Twin 1100 Adv. | 815 | 705 | 885 |
| BMW F 750 GS | 760 | 645 | 830 |
| HONDA NC 750X | 680 | 570 | 750 |
| HONDA CB 500x | 620 | 510 | 690 |
(* Rider and Passenger price is for both people, not per person).
Booking deposit : 200 euros for rider, 100 euros for the pillion passenger.

Balance payment due: the day you collect the bike.
Note: prices shown are based on quotes from hotels offered to us for group tours on fixed dates. Depending on the time of your travel, prices may be slightly different (for example during peak season).
Best experienced during May, early June, September and October.
July and August are fine, but somewhat crowded. April requires careful riding on certain mountain routes.
| Airport transfers. Prices are per 2-way transfer (to and from the airport), not per person. | |
| --- | --- |
| Up to 3 pax | 90 |
| 4 to 8 pax | 150 |
| | |
What is Included in the price you pay
– 2 nights accommodation in Pelion and 2 breakfasts, in personally selected hotels.
– Airport transfers to and from Athens on arrival and departure (offered as an option)
– Rental of Motorcycle, with side panniers, top case, comprehensive insurance with excess.
– 1 GPS per 4 motorcycles, with routes, waypoints and points of interest pre-loaded for every day
– Paper map with routes marked and a short booklet with key information for the trip.
– 2 helmets, European standards approved.
– Free luggage storage at our premises.
– All taxes
– accommodation in Athens (we can arrange it if you wish)
– Fuel & tolls
– Food, drinks, personal daily expenses & tips
– Fines, tickets
– Entrance fees to local museums, tourist sites
– Ferries, parking
– Personal travel insurance
– Visas (if required)
– Anything else not described as "included".