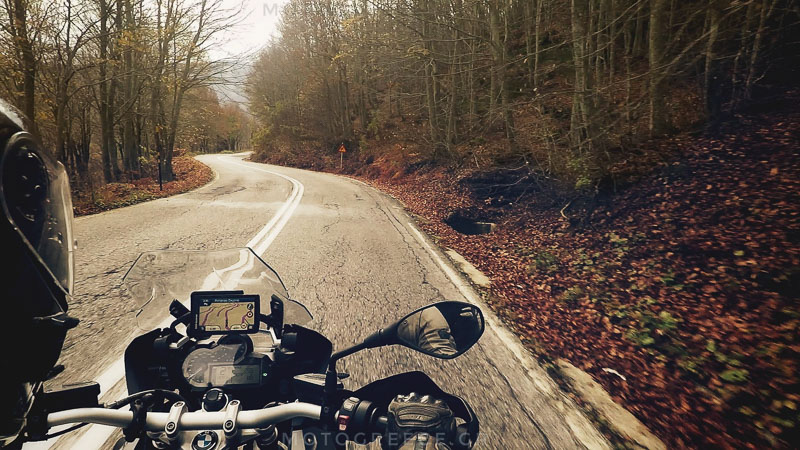 In a previous post of ours we talked about why your next motorcycle tour in Europe should be in Greece, now let's read some riders reviews about their motorcycle tours in Greece. There is no better proof of what we are saying than our customers' opinions who back our statement 100%!
All of the following opinions are quoted from our customer's reviews which can be found either on Google , or on TripAdvisor or on our Facebook page.
We think that when such points of view come from motorcyclists who have had experiences from travelling in many countries, they have more "weight" since there is a measure to compare.

"Greece trumps them all!"
Those were Neil's words! Coming from UK, Neil wrote about Greece on TripAdvisor:
"I rented a BMW F750 GS from Moto Greece for 2 weeks in August this year and traveled alone the entire length of mainland Greece taking in some of the most beautiful roads and scenery you can get.
I've ridden all over Malaysia, the entire length of Thailand, Sri Lanka, France and Italy, but Greece trumps them all. While the Stelvio Pass in Italy only lasts a few hours and the 1860 corners in Chang Mai to Mae Hong Song in Thailand will give you a day of twisties, Greece has weeks of this stuff".
Neil continues by saying:
"First I headed south to the mystical Peloponnese taking in the Corinth canal and Epidaurus. Then it was a beautiful coastal ride further south with amazing beaches and coast coupled with lovely twisties with little traffic on them.
This was in Aug too so I was surprised at how quite the roads were. I went right down to the southern tip and back up to Mystras where there is an unbelievable mountain road from Mystras to Kalamata – twisties for days!
From there I took in some of the really picturesque villages dotted around the Peloponnese, hanging out with Greeks in squares drinking coffee and chatting."
Neil doesn't stop there. In his very extensive review he adds :
"But the real fun begins when you cross the bridge at Patras and head north into the mountain ranges of Tzumerka and Papingo. These roads really are a treasure and about 95% paved with the odd short section of gravel.
…
There were times when I went hours without seeing anyone except for goats. However, you're never far from a village in Greece's never-ending competition to see who can build the most inaccessible village in the country. This means plenty of opportunities to stop for coffee or stay in mad places with really dramatic scenery."
There is much more insight in his review (you should really head over to tripAdvisor and read it!). Neil closes by saying : "what are you waiting for?"

"An amazing experience"
Ido from Israel has already rented from us twice, in 2016 and 2018 ! He wrote on TripAdvisor:
"Riding a motorbike in the wonderful roads of the Peloponnese was amazing experience".
Kyle from Tennessee, USA, is also a happy customer who rented from us in 2018 and now he has already booked again and is scheduled to arrive in April 2019 ! In his tripAdvisor review he commented :
"We toured the Peloponnese area and I would highly recommend it; it's just total saturation of curvy mountain road riding with incredible scenery and views from the coasts to the peaks. Many, many small quaint villages to tour through, stay the night, catch lunch, etc".
Rosh and Laura from UK toured Greece in May 2018 on two F700GS. Rosh wrote on Facebook:
"The roads in Greece are amazing… they're totally underrated as they provide just as good riding and views that can be found in the Alps !!!
Central Greece has endless roads and several options to get from one place to another. There are antiquities to see at every turn and in one week we were able to see Delphi, the Proussos Monastery, Meteora, the Vikos Gorge and on Peloponnese we saw Ancient Olympia and the Ancient Theatre of Epidaurus.
We barely scratched the surface on our trip and will definitely come back to MotoGreece for our next rental".

Our Customers return for more !
Yes, this is again proof of what we are saying, and of course a hint for you, regarding the quality of our services.
Roy from Israel is one more satisfied customer. Having rented from us for the 1st time early in 2018, he and his son have already booked again for May 2019! Here is what he wrote in a Google review :
"The BMW's were outstanding in mint condition, they did not fail us which made our trip even better taking the winding and twisted roads, up the mountains and on the never-ending beaches. Greece is indeed the land of the gods and a must for motorcycling enthuses but only with MotoGreece!! we look forward to seeing you next year."
We could not leave Rod from Canada out of this! Rod rented from us in 2017 and again in August 2018! He said :
"John planned a 14 day trip for me through some of the best motorcycle riding roads in the world.
…
The hotels were terrific. Clean, inexpensive and friendly service. The route was INCREDIBLE. I can't say enough of how beautiful Greece really is. The perfect place for a motorcycle road trip."
So guys, what are you waiting for ? As Alun said – yet one more happy customer of ours, from the Isle of Man, : "Get it done folks!"